CHRISTOPHER WRAY TO 'SAVE THE DAY'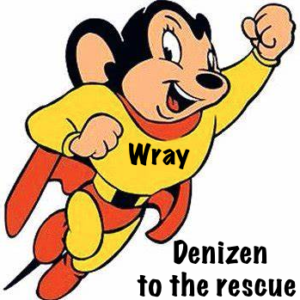 FBI Chief Could've been knocked over With a Feather When Horowitz Told Him There Might Be A Tad of Incompetence in the Bureau!
But By Golly, Chris Is Going to 'Step Up'…Will Undoubtedly Have Agents Attend Training To Learn That Fraud, Lying, and Leaking Are Against Policy
"FBI Director Christopher Wray has ordered more than 40 changes in how the bureau seeks secret surveillance warrants…" (need more diversity and 'correct gender pronoun' training?)
Rumored That He Plans To Appeal To The Public To Stop Referring To Bureau As "Keystone Cops"
IG Report and response:
"FBI agents withheld some information from the Justice Department and the FISA court…"
"The FBI will take appropriate disciplinary action where warranted', said Mr. Wray."
"Wray could seek to remove low-level agents involved in the surveillance applications for Mr. Page from national security work.." (But, aren't these part of the "36,000 hard working, committed…"?)
"the Justice Department inspector general pointed out a series of flaws in the bureau's efforts to monitor a former Trump campaign adviser."
And, finally:
""Everyone recognizes the changes must be made, but people are also concerned that it's just going to make it harder to do their jobs," he said. And there is concern within the bureau that political pressure will mean harsher punishments for some employees, he said: "We get it, but at the same time, there's a lot of fear."
———————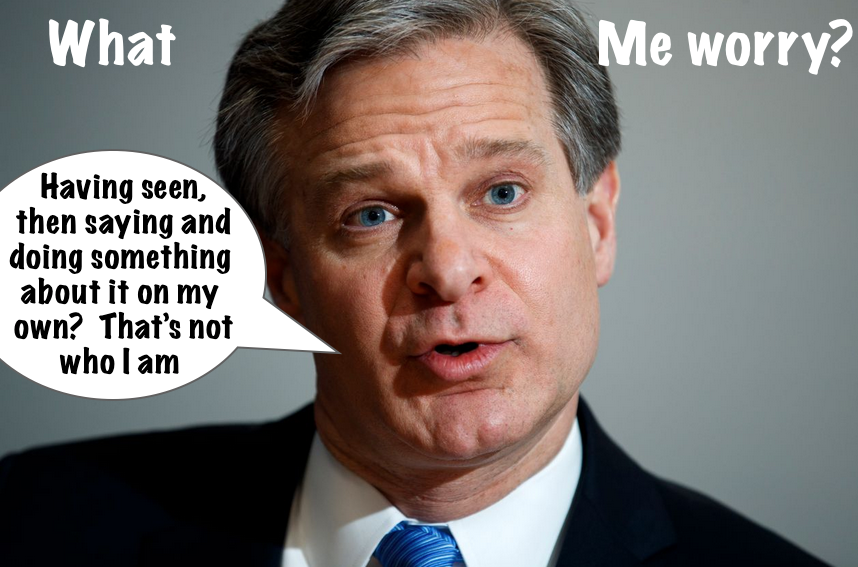 Always a 'Favorite Trump Appointee' of Ours, we've noted a lot of Democrats must like Director Wray. He received confirmation support from all but 5 out of 48 Dem senators when Democrats really didn't want to confirm any of President Trump's appointees…Ben Carson was confirmed with only 7 Democrats voting 'yes'; Betsy De Vos confirmed with 0 Democrats; Bill Barr was supported by 3 Dems!
In our opinion, the Democrats have been richly rewarded for their support of Christopher Wray. As FBI Director he's done less to restore the Bureau's image and effectiveness than it would have seemed possible to do less.
Wray stonewalled, slow-walked, and blocked many, various efforts by congressional Republicans to get to the bottom of all the incompetence and wrongdoing by key FBI officials during the Obama administration and highlighted in the DOJ Inspector General's report. When 'doing something' is inescapable, Wray always announces he's gonna have a "training program"!
Some, whom IG Horowitz has even identified as part of the FISA fiasco, are still employed by the FBI.
If the reputation and the American people's confidence in the FBI is to ever be restored, a good first step would be for President Trump to find a new Director.    dlh
Article at WSJ link below
FBI's Wray Acts Fast to Make Changes After Scathing Report
Move comes in response to Justice Department inspector general's criticism of how surveillance of former Trump campaign adviser was handled