We wonder, is Bill Gates going to have us pay for his land acquisitions?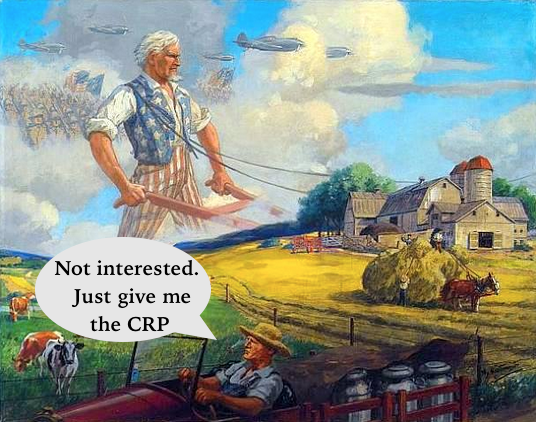 Excerpts from Stu Cvrk writing at RedState:  (Graphic not part of article)
More Acreage in CRP? What Could Go Wrong? 
The pace of the America Last policies implemented by the Hologram's mad regime continues unabated. While most of the public focus is on big-ticket items like welcoming a flood of illegal aliens after dissolving the US-Mexico border, raising gasoline prices by shutting down pipelines and drilling access on public lands, and destroying US military readiness by turning it into a "woke" organization, there are a whole host of smaller but nevertheless important actions that have gone virtually unnoticed. And all of those are intended to have deleterious effects on Americans, too.
One of those is a recent decision by the US Dept of Agriculture to try to persuade US farmers to put another four million acres into the Conservation Reserve Program (CRP):
The Biden administration hopes to convince farmers to set aside four million more of acres of land for conservation this year by raising payment rates in an environmental program, but farmers said surging crop prices make it a tougher sell.
The push to enroll more land into the 36-year-old Conservation Reserve Program is a part of the administration's campaign to counter climate change.
In the voluntary program, the U.S. Department of Agriculture (USDA) pays farmers a yearly rent not to grow crops on environmentally sensitive land for 10-15 years as a way to prevent soil erosion, sequester carbon, reduce nitrogen runoff and provide habitats for wildlife.
About 21 million acres are enrolled in the program, below the Congress-set limit of 25 million acres. The cap will gradually increase to 27 million acres by 2023.
To entice farmers to add 20% more acres in 2021, the USDA is expanding the number of incentivized environmental practices allowed under the program, along with raising payment rates, the agency said.
The order also calls for the establishment of a Civilian Climate Corps Initiative to put a new generation of Americans to work conserving and restoring public lands and waters, increasing reforestation, increasing carbon sequestration in the agricultural sector, protecting biodiversity, improving access to recreation, and addressing the changing climate.
. . .  Still think the CRP increase and the 30×30 Plan have nothing to do with "climate change"? Neatly bundled in an EO expressly dealing with climate change. And note that second bullet. Maybe the Hologram et al. are planning ahead on what to do with all the unemployed after they destroy the US economy through hyperinflation and massive tax increases. Somewhere FDR is smiling, as the Democrats appear to be laying the foundation for a new Civilian Conservation Corps patterned after the public work relief program put in place during the Great Depression. Except the new focus will be on "climate control" public works.  . . .

. . . With these rising prices, farmers are making real money for the first time in years, and most Americans want farmers to earn a fair living for their sweat and hard work. Grain prices affect the cost of beef, pork, turkeys, and chickens. It is simple economics: higher grain prices result in higher meat prices. What the US government should be doing is incentivizing crop production, not curtailing it. We should also be expanding US cattle and hog herds and turkey and chicken flocks in order to keep food prices stable while also exporting to meat-importing countries. Taking even marginal land out of agricultural production is a mistake. [Note: a lot of land previously considered to be "marginal" has been improved for productive cultivation over the years through diligent hard work.]
Finally,other grain exporting countries like Brazil, Argentina, and Australia will be enticed to plant more acres to meet world demand if the US sets aside additional acreage in CRP. Maybe that is one unspoken purpose behind the Hologram's CRP push – another America Last policy. Good for foreign farmers; not so much for American farmers. And if the Hologram regime's 30×30 Plan (and CRP) goal is to help "halt climate change" in response to the "climate crisis panic porn" being purveyed by CNN by taking US acreage out of production, how is that goal achieved if other countries merely make up the difference?
But then Democrats always seem to ignore the law of unintended consequences in their misguided policies. And, as more and more Americans are recognizing, the Democrat Party is all about America Last.
No sale on the increase in CRP acreage and the 30×30 Plan! More development for agriculture and other land use purposes means more jobs and economic growth while minimizing food price inflation. America First!
We are aware of a situation in a neighboring state that ought to raise red flags. A person in a position to know related to us how an individual, already up there in years, in his retirement bought some tillable farm land as an investment.  He as the owner has never grown a crop on it nor did he rent it out for others to do so.  He turned it all over to the CRP program and in is essence having the government, you and I pay for his estate.
We do not think most real farmers are interested in doing that. Which brings up recent news about Bill Gates:
Is This The Chilling Reason Why Bill Gates is Buying Up So Much US Farm Land?  
Also this:
Microsoft founder Bill Gates is now the biggest private owner of farmland in the US, according to The Land Report
The tech billionaire, 65, owns 242,000 acres of agricultural land in 18 states 
His largest holdings are in Louisiana, Arkansas, Arizona and Nebraska
Gates owns total of 268,984 acres of land of all kinds, including in suburban Phoenix, Arizona, which he aims to turn into a 'smart city'
Gates is the fourth richest person in the world with net worth of $121billion, according to Forbes
John Malone, the billionaire businessman and Liberty Media owner, is biggest overall US landowner, with 2.2 million acres of land
It is unclear why Gates has invested so heavily in farmland, but could be connected to climate change 
Land owned directly and through Gates' investment entity, Cascade Investment
Cascade Investment's money manager, Michael Larson, is reportedly to be Gates's land portfolio manager 
Read more by linking to the article.
So is Gates going to have us foot some or all the bill for his acquisition?  Inquiring taxpayers want to know.