Over the years — the usual suspects — Democrats and some Republicans — a collusion of current legislative leadership have prevented effective E-Verify program

DACA can wait – stop the magnet that draws  illegal immigration
Grassley working for E-verify, against abuses of guest worker program
Thanks to Tom Nelson for forwarding the information from Numbers USA
This chart may illustrate the ineffectiveness of the current hodgepodge of E-verify laws  — ineffective at preventing the encroachment  by illegal immigrants on jobs for legal residents.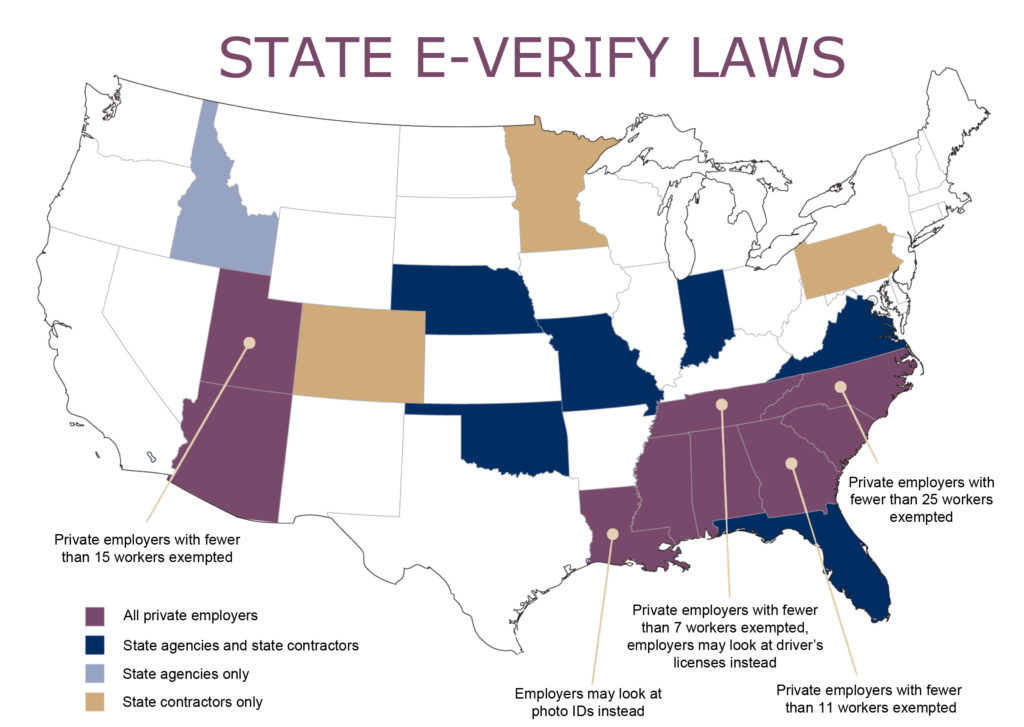 From a Newsletter by Numbers USA (bold emphasis ours, graphic above not in original
Democrats and some Republicans protecting outlaw businesses  (bold — our emphasis)
Committee vote on E-Verify adds names to list of champions of outlaw businesses
(NEWS ITEM: The House Judiciary Committee on Wednesday night passed H.R. 3711, the mandatory E-Verify bill. But the 10 Members who voted against it may represent the majority in Congress at this moment.)
For 21 years, these Senators and Representatives have blocked the mandatory E-Verify system that nearly all analysts conclude is necessary to stop the illegal hiring.
We saw quite a bunch of these champions of outlaw businesses show their colors this past week over the issue of whether to finally require employers to use E-Verify to ensure that they don't hire illegal foreign workers instead of recruiting from groups of struggling Americans.
Here's one list of U.S. Representatives who continue to favor the outlaw businesses over the groups with the lowest employment and highest poverty (African Americans, Hispanic Americans, disabled Americans, younger non-college Americans):
• From CALIFORNIA: Rep. Zoe Lofgren and Rep. Ted Lieu
• From FLORIDA: Rep. Ted Deutch
• From GEORGIA: Rep. Hank Johnson
• From ILLINOIS: Rep. Luis Gutierrez and Rep. Brad Schneider
• From MICHIGAN: Rep. John Conyers
• From NEW YORK: Rep. Jerrold Nadler
• From RHODE ISLAND: Rep. David Cicilline
• From WASHINGTON: Rep. Pramila Jayapal
Those 10 on Wednesday night voted in committee against H.R. 3711 which would finally require all employers to use E-Verify.
Fortunately, they did not prevail, as the U.S. House of Representatives Judiciary Committee passed H.R. 3711 over their objections and sent it to House Speaker Paul Ryan to bring to the floor for a vote.
Will the bill come to a floor vote? Not if Republican House leadership continues its decades-long tradition of protecting outlaw businesses.
But every Republican vote on the committee was AGAINST the outlaw businesses. A hopeful sign.
All the outlaw-business protectors on that list above are Democrats. All media reports on this issue indicate that the Democratic Party in Congress is nearly unanimously committed to helping outlaw businesses avoid E-Verify so they can continue to avoid hiring unemployed Americans.
That is a shameful besmirching of the Democratic Party's traditional role in protecting American workers
Reports this week indicate that the outlaw businesses also are getting a lot of help from Republican Senators. Here's one list:
• From ARIZONA: Sen. Jeff Flake
• From NORTH CAROLINA: Sen. Thom Tillis
• From OKLAHOMA: Sen. James Lankford
• From SOUTH CAROLINA: Sen. Lindsey Graham
• From TEXAS: Sen. John Cornyn
Those Republicans are reported to be on an informal task force led by Sen. Cornyn to get a DACA amnesty through the Senate.
All of them in one way or another have indicated that they don't want the amnesty to be slowed down by including an E-Verify provision that would disadvantage outlaw businesses. (If they can't get mandatory E-Verify while giving away an amnesty, when do you think they ever would — or could?)
Roy Beck, President of Numbers USA
Related reading:
House Judiciary Committee Passes Mandatory E-Verify Bill    (excerpt)
In a press release House Judiciary Committee Chairman Bob Goodlatte (R-Va.), who is an original co-sponsor of the bill, wrote, "one way to make sure we discourage illegal immigration in the future is to prevent unlawful immigrants from getting jobs in the U.S. Requiring the use of E-Verify by all employers across the country will help do just that. The web-based program is a reliable and fast way for employers to electronically check the work eligibility of newly-hired employees.
H.R. 3711, the Legal Workforce Act, builds on E-Verify's success and finally implements one part of the strong enforcement that was promised to the American people many years ago. The Legal Workforce Act does not simply leave enforcement up to the Federal government. In fact, it actually empowers States to help enforce the E-Verify requirement, ensuring that we do not continue the mistakes of the past where a President can turn off Federal enforcement efforts unilaterally."
Read more on the vote here.
Playing the game to win
Connecting passage of ag-visa bill with mandatory E-Verify creates new opportunity   (excerpt)
The ag-visa bill attempts to cut red tape, streamline the process and make it easier and more reliable to send for guest ag-workers. Agri-business ought to be mighty happy with everything it got in the bill.
We have reason to be happy, too. UNLIKE WHAT THE AGRI-BUSINESS LOBBY ALWAYS WANTED IN THE PAST, this ag-visa bill will not give a permanent amnesty to the hundreds of thousands of current illegal ag workers. They will not be given lifetime work permits and a path to citizenship. If they want to continue to work in the U.S., they will have to enter the legal guest worker program which requires periodic trips back home and renewals, and which prohibits them from having their families here or working outside agriculture.
AG BILL CAN'T GO INTO EFFECT UNTIL E-VERIFY MANDATED
Rep. Ron DeSantis (R-Fla.) may have made the most important change from the past with an amendment approved by the committee on a voice vote.
That amendment to the ag-visa bill includes a provision that requires the implementation of mandatory E-Verify before any of the ag bill's guest worker visas may be issued.
It is a good attempt to keep Republican leaders in the House and Senate from sabotaging the Judiciary Committee's good work by passing only the ag-visa bill and blocking the E-Verify bill from floor votes.
Sen Grassley, a supporter of E-Verify, is working to stop abuse of program similar to H1-B
Sen. Grassley Urges NAFTA Ambassador to Review the TN Visa Program
Yesterday Senate Judiciary Committee Chairman Chuck Grassley (R-Iowa) sent a letter to U.S. Trade Representative Robert Lighthizer, asking him to review the high-skilled TN visa program during the NAFTA negotiations. Sen. Grassley says the TN visa program could undermine the Trump administration's goal of protecting American workers from being replaced by cheap, foreign labor.
The nonimmigrant NAFTA Professional (TN) visa was created as part of NAFTA and allows high-skilled foreign workers from Canada and Mexico to live and work in the U.S. for 3 years. Even though this visa is supposed to be temporary the foreign worker can renew their status an unlimited number of times.
There is no impact or labor analysis to determine the effect the TN visa is having on American workers, unlike with other visa programs such as the H-1B program. Currently it is estimated that almost 100,000 TN visa holders are working in the U.S. in professional occupations such as accountants, engineers, lawyers, librarians, and teachers.
"This uncapped and under-recognized pool of high skill employees exacerbates the risk to American workers already present in certain industries that rely too heavily on foreign workers. It also constrains the U. S. Government's total discretion over our immigration laws," Sen. Grassley wrote in the letter.
You can read the full letter here
---
Numbers USA  makes clear –  No' to Immigrant Bashing
From our beginning in 1996, we have urged our fellow Americans who are concerned about immigration to refrain from anger toward the foreign born who live among us. In a quarter-century of speeches across the country and in our videos (viewed by millions), I have repeatedly made the appeal that I make to you as you read this: If you get angry about the problems that we show are a result of immigration policies, don't get angry at immigrants but at the government officials who are responsible for the policies.    More to their statement here.
---
V'pac