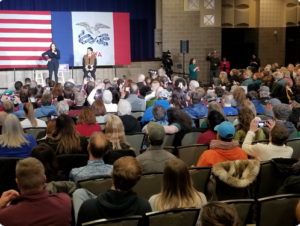 Did we say Kwanzaa – we meant Kamala  or is it Kabbala .  Anyway it was a puffed up event with a lot of camarilla. We'll bet every pothead, Planned Parenthood devotee (split as they are between every Democrat trying to out baby-kill them), and transgender in Bettendorf (and Davenport) turned out for this show. They do get around
From the Dallas News Bureau Chief:
At least 500 people in Bettendorf, on Iowa's east coast, for @KamalaHarris town hall. #IACaucus
He Tweets —
"knows how to prosecute President Donald Trump, citing her former job as state attorney general Sunday."
Harris, a 2020 presidential candidate, was in Bettendorf, Iowa, speaking to a group of supporters, when she said, "we're gonna need a fighter, and we're going to need somebody who knows how to prosecute the case against this president," pitching herself as the ideal candidate to defeat Trump in 2020 to the audience of around 500.
We hope there is a roving conservative, hell even Republican, truth force, well disciplined and rehearsed to show up at these and take videos, document and ask questions – maybe there is – Democrats do it all the time.
About the number "500" — I doubt it –  maybe 350 (counting heads in one of the stills shown and extrapolating generously).  And 50 to 75 of that is press and staff. You know the press contingent was large if the Dallas News sends its Washington Bureau Chief.
Rumors of  Harris' campaign slogan: "Kamala about Californicating America (KACA)