Pushes voting before debate concludes
Builds in opportunities for fraud, intimidation and vote harvesting
Too bad Paul Pate was not primaried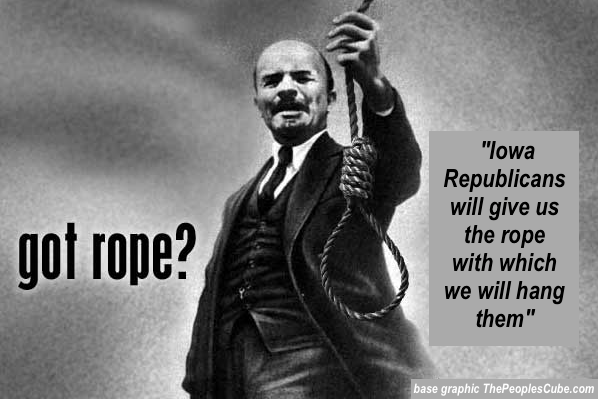 This captioned image, adapting a quote attributed to V.I. Lenin regarding capitalists, is further adapted from ThePeoplesCube.com graphic. It pretty much sums up the stupefying actions of Iowa Republican Secretary of State Paul Pate and to a considerable extent the Iowa House of Representatives and our Republican Governor  in promoting absentee voting and vote by mail.
The use of state funds to promote primary voting, which is and ought to be primarily  a function of  the political parties, is in our judgement an improper use of taxpayer dollars and, on at least superficial initial analysis, may be constitutionally suspect, more likely in particular if it evolves into what was proposed in Democrat controlled California, actually sending vote by mail ballots to every "registered" voter.
The thing is that while only request forms were sent by Pate TO EVERY REGISTERED VOTER WITH POSTAGE PAID RETURN ENVELOPES, for a PRIMARY, the justification for doing so is easily extended to universal vote by mail in the general, pandemic or not.   The Republican Senate to a limited extent voted to stop the practice for good reasons, but the Republican House has "compromised" to make the rope softer. It was a pathetic display in the House.
We will have more to say about this, and lost opportunities at the Republican State Virtual Convention today, in a coming post.