Chasten Buttigieg and his wife, Transportation Secretary Pete Buttigieg announced that they are parents of two new-born children. (our headline*)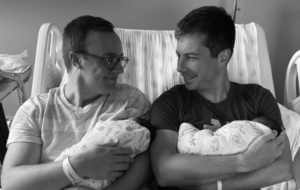 The gay couple was photographed in a hospital bed sporting what appears to be hospital admission bracelets while cradling two infants. The black and white photograph gives the impression that they – um – well – never mind.
Chasten and I are beyond thankful for all the kind wishes since first sharing the news that we're becoming parents. We are delighted to welcome Penelope Rose and Joseph August Buttigieg to our family.
Oh yes "two daddies"? no mommies, one warped woke culture celebrating this travesty.
Can you get these at Neiman Marcus or wherever the elite gay go to shop?
Our impression is that because the babies were born in a hospital in the states they are not foreign adoptions. A wanting, loving, normal, male – female /mom and dad couple are left on the waiting list.
Of course the liberal media took a break from reporting that hospitals are overrun with unvaccinated COVID patients (a lie) to show these two taking up bed space  to have a photo-op with children they did not birth. Why in the hell are they issued a room and sharing a bed??  Oh well glad there were no complications for either of them.  There are creams for the stretch marks.
Reading the story link
In July, the couple nearly adopted a baby from a mother who was in labor who changed her mind about giving her baby up for adoption.
"It's a really weird cycle of anger and frustration and hope," Chasten told the Post in a July interview. "You think it's finally happening and you get so excited, and then it's gone."
What the hell do they have to be angry about, a birth mother changing her mind and keeping the baby??!!. Adoptive parents are there for the child, not simply their egos.