Productivity gains not a good reason for minimum wage increase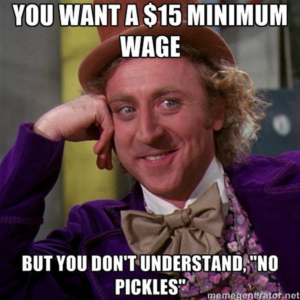 TheCBS News article below could have been written by the poorly educated AOC, the "Econ major" from Boston University (which showed what wonders it could do with a childish dimwit) . . . or perhaps Pope Francis — the Marxist prelate who hates capitalism, the USA, anybody who voted for D J Trump, and any economic system other than communism . . . or maybe Bernie Sanders, who fell in love all over again during his honeymoon trip to view the marvels of communism in the Soviet Union.
Should the minimum wage really be $26 an hour?
Aimee Picchi
The federal minimum wage in the U.S. has remained glued at $7.25 an hour for the last 12 years, the longest stretch without a boost since it was first adopted in 1938. Yet there's another revealing figure that underscores how the minimum wage — created by Congress after the Great Depression as a way to ensure that Americans were fairly paid for their labor — has failed to keep up with the times.
Even as workers have been more industrious — helping drive corporate profits, the stock market and CEO compensation to record heights — their pay has flatlined, or even declined when factoring in inflation. If the minimum wage had kept pace with gains in the economy's productivity over the last 50 years, it would be nearly $26 an hour today, or more than $50,000 a year in annual income, one economist notes.
"That may sound pretty crazy, but that's roughly what the minimum wage would be today if it had kept pace with productivity growth since its value peaked in 1968," wrote Dean Baker, senior economist at the left-leaning Center for Economic and Policy Research, in a recent blog post.
Productivity — how much income someone generates in an hour of work — is critical for the economy because it helps determine a country's standard of living. Yet rising productivity is no guarantee of a healthy economy. Equally important is how the fruits of productivity are divided.
To that end, "Having the minimum wage track productivity growth is not a crazy idea," Baker said.
A recent CBS News poll found that most Americans support a hike in the federal minimum wage, a view that cut across socioeconomic status.
Our observation:
"Having the minimum wage track productivity growth is not a crazy idea," —  ahem,  he doth protest too much and pretty much yes it is a crazy idea. (see economic definition of productivity below)
Capital investment is key to productivity growth and the safety and efficiency of labor. And to a great extent it can supplant labor.  The guy who turns on the machine by pushing a button which at present is a necessary function by humans (coldheartedly, arguably a limitation to the process) and maybe monitoring its performance, (something that down the road can perhaps be computerized) just to start and see that machine pump out 100 times more widgets or do a hundred more welds more precisely in an hour than he or maybe ten other humans working together could do,  can not honestly be considered as contributing a key skill to productivity if productivity is the benchmark.  That worker may actually be less trained in the widget making or welding process than previous workers who actually had to know how to weld. Such a function may now only require a low skilled worker to push the button and if monitoring, push another button to sound an alarm (in lieu of computerization of that process). Such productivity is a poor benchmark for wage determination.
Investopedia    https://www.investopedia.com/terms/l/labor-productivity.asp
What Is Labor Productivity?
Labor productivity measures the hourly output of a country's economy. Specifically, it charts the amount of real gross domestic product (GDP) produced by an hour of labor. Growth in labor productivity depends on three main factors: saving and investment in physical capital, new technology, and human capital.
Key Takeaways
•    Labor productivity measures output per labor hour.
•    Labor productivity is largely driven by investment in capital, technological progress, and human capital development.
•    Business and government can increase labor productivity of workers by direct investing in or creating incentives for increases in technology and human or physical capital.