Andreas Lubitz Obama…soon the passengers will be screaming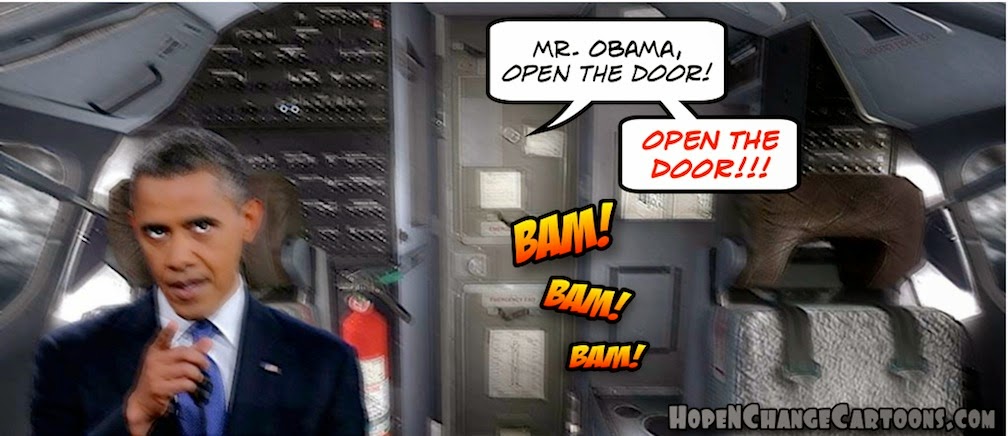 This Stilton Jarlsberg graphic is a provocative "tease"  to his  provocative and insightful essay.  He elaborates on something our illustrious senior editor observed earlier today
"Obama is America's version of the germanwings co-pilot, buckle up world!"  *  From Jarlsberg's commentary Crash Position:
Obama locked out those who advised against premature troop withdrawals. Locked out the intelligence agencies who issued warnings about the growing threat of ISIS. He locked out anyone who could have interfered with his release of five Taliban terror chiefs in return for one U.S. military deserter.
And of course, Barack Obama has now locked out Congress, the American people, and our allies as he strikes a secret deal with Iran to determine the timeline (not prevention) of their acquisition of nuclear weapons.
There have been a number of similar analogies. Here is one that appeared in American Thinker by Jeannie DeAngelis on March 28: Air Obama is Headed for Tragedy  excerpt:
Over the French Alps, an amateurish pilot managed to seize the controls, then he locked out the qualified, and proceeded to calmly and deliberately ram a plane into the side of a mountain – which, figuratively speaking, is precisely what Captain Obama is attempting to do to America. 
The president has gripped the controls; his breathing is steady and calm.  From the look of things, he appears to be unwavering in his determination to shatter whatever is left of this country's future.
Regrettably, what's lacking on America's doomed flight is the sort of political determination the locked out pilot of the Germanwings Airbus exhibited when he attempted, but failed, to chop through the cockpit door with an ax.
---
Harry Reid has announced he will not run for reelection
Yes, it's true. Harry Reid, one-time "Turd" Weight boxer who recently lost by a TKO in a one-round bout with his "exercise machine", is retiring from the US Senate.
Senator Reid and his powerful booming voice will most certainly be missed.
While Mr. Reid gave the most noble reasons for his retirement at this time, rumors have been circulating that his "exercise machine accident" may really have been a message from
---
disgruntled Democrats who lost reelection races last fall thanks to Senator Reid's dogged efforts to support Barack Obama's dictatorial rule.
Anyway we offer this thumbnail retrospective of good ole Harry even if a little premature.
Not sure if the pictures above reflect a rematch with the exercise machine or not but it does seem to have a good left and right hook. But we do know how he broke his finger — somebody hit him in the nose. We note that not everyone is enthusiastic about his departure. And, fortunately for Harry, he has never had to worry much about an elbow from the right.
---
Cognitive dissonance
Earlier this week, Dana Perino, White House press secretary for GW Bush was asked by a fellow member of Fox's "The Five" if she could explain how Obama administration spokespeople could make such absurd pronouncements as Josh Earnest's affirmation of Yemen as one of the really great foreign policy and national successes in the war on (Islamist) terrorism and Jen Psaki's vigorous defense of Obama's "No deserter left behind" policy.
Ms. Perino was sympathetic, it seems, to the plight of those poor spokespeople; "it's their job to reflect the president's views whether they agree or not" was the gist of her remarks.
Uh, well, I think we can all see that point. But, it occurs to us that if one can say that stuff with a straight face (though often with a befuddled look), who can they hang out with when they get off work? Who can sympathize with their efforts to be "convincing" while saying such obviously inaccurate, fundamentally goofy stuff? Who would respect these two who are apparently so desperate for a job that they are willing to stand before the world every day and make a complete fool of themselves?
And then we thought, we know of people who would not only admire Jen and Josh, but would also be gullible enough to believe their drivel and even try to pass it on to others.
Some of them comment here.   Look it up.
---
DLH with R Mall