. . . with George Clooney strumming a banjo at her feet (talent on display below)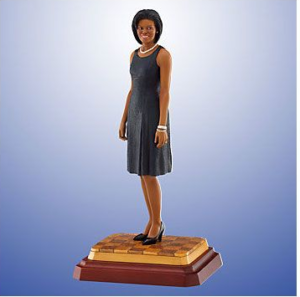 Let's not go just halfway, Pittsburgh…America…the Democrat party… Going halfway, well "Uncle Joe" Stalin would be so disappointed.
The playing of any music written by Stephen Foster must be banned, anywhere in America. People violating the ban must be arrested and prosecuted and subjected to harsh punishment. Any copies of the sheet music for these songs are to be confiscated and destroyed as they are found.
Oh, and a replacement for the Stephen Foster statue? Why, who else? They must be casting bronze statues of Michelle Obama at a record pace in foundries all over…Hollywood? Cuba? Venezuela?, or wherever dedicated radical leftists are.
Soooo . . .
Maybe a statue of Michelle with George Clooney strumming a banjo at her feet would fill the bill for P'burgh. This time with real subservience depicted, just in white-face.    DLH
After more than 100 years, the Stephen Foster statue in Oakland has been removed   (excerpt)
The statue, by sculptor Giuseppe Moretti, was unveiled in 1900 and moved to its location near Schenley Plaza in Oakland in 1940.
The statue has drawn controversy because it depicts Foster with a slave at his feet, strumming a banjo.
"It's been a long process. There have been criticisms about this statue for decades, and it finally came to a head last year in the context of other controversies around the country of Confederate statues," said Tim McNulty, a spokesman for Mayor Bill Peduto. "Obviously this is a little bit different, but the city's Art Commission found that it was no longer appropriate in a city space."
Peduto's office is leading a community effort to replace the statue of Foster, whose songs also included "Camptown Races," "My Old Kentucky Home" and "Old Folks at Home" (Swanee River).
"Hopefully it will be replaced with a statue of an African-American woman," McNulty said. "There are no statues of African-American women in the whole city of Pittsburgh, and that's the hope for its replacement."   . . .
Just keep in mind the disclaimer, George is NOT a Negro: