Trump demands Sen. Tester resign for 'slander' against VA pick Jackson
"The usually low-profile senate shot to the front pages this week after he led the push against Dr. Jackson, who has served in the White House Medical Office for President George W. Bush and President Obama and now Mr. Trump, and who received high ratings from all of them."
_______________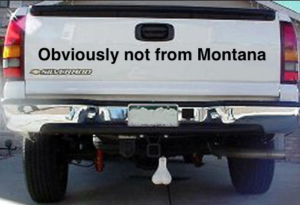 "Low profile" describes the Senator. One could say, actually, "low life". Mr. Tester would be well-advised to be "low profile". When he does what he did to Admiral Dr. Ronnie Jackson (to 'heighten his profile'?), he exposes himself as the contemptible freak show he is.
Hard to imagine the voters of Montana want this guy to represent them on the national stage.     DLH
————————
Via Washington times:
President Trump on Saturday called on Sen. Jon Tester to resign, blaming the Montana
Democrat for "false" allegations that sank the nomination of the White House doctor to lead the Veterans Affairs Department.
In a series of Twitter posts, Mr. Trump said the allegations against Rear Admiral Ronny Jackson released by Mr. Tester, the ranking Democrat on the Senate Veterans Affairs Committee, were "slander."
"Tester should resign. The great people of Montana will not stand for this kind of slander when talking of a great human being," the president said.
Mr. Tester is running for reelection to a third term this year, in a state Mr. Trump won easily in the 2016 election.
The usually low-profile senate shot to the front pages this week after he led the push against Dr. Jackson, who has served in the White House Medical Office for President George W. Bush and President Obama and now Mr. Trump, and who received high ratings from all of them.
How contemptible is Tester? (and by implication Montana voters if they return this ass-clown)
Democrat Fake News: Secret Service Shreds Another Allegation Against Ronny Jackson