US Attorney John Durham issued a challenge to Horowitz's findings that indicate this is not over
Scads of "textual evidence" exists to indicate political bias of key investigators
As regards Horowitz's investigation: If you can't go outside the department then how useful is the investigation?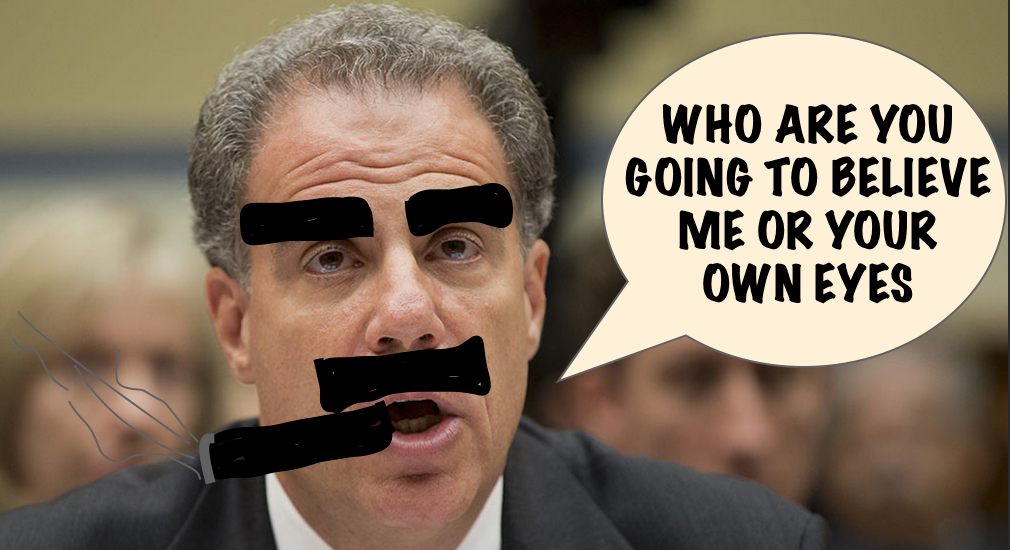 Investigating trained investigators of the upper echelons in the DOJ and FBI,  and being limited to that closed-loop/ incestuous circle, who largely controlled the internal paper trail and got where they are by definition of good old boy network —  IG Horowitz has found "no textual or testimonial evidence" of political bias (see previous posts today) in his investigation of the propriety of FISA  applications in the departments investigation of alleged collusion by the Trump campaign with Russia.  IG Robert Mueller previously concluded there was no collusion.
In the report issued today Horowitz also reported a finding that there were sufficient qualifiers to justify the FISA applications to spy on Trump's campaign (even as they found no collusion).  US Attorney Durham has challenged that (see below) . However his report does list a couple dozen "serious errors" and they would seem to be the exceptions that pretty much swallow the finding.  Here are some posts by our go-to journals explaining some of the events.
---
Matt Vespa at Townhall:  (excerpts)
DOJ IG: FISA Application for Spy Warrants Against Trump Official Riddled with Errors
Well, it's dropped. The report from the Department of Justice Inspector General's Office on FISA abuses against the Trump campaign during the Obama administration has dropped. The Federal Bureau of Investigation was ripped for deviating from department policy concerning the application process. The FBI used the unverified Trump dossier, which was a Democrat-funded opposition research project. The Hillary Clinton campaign hired research firm Fusion GPS, who then contracted ex-MI6 spook Christopher Steele to compile the document. It's riddled with inaccuracies. And it's the work that set off this Russian collusion nuke in the media. It was a myth.  . . .
There are over a dozen instances where DOJ IG Michael Horowitz cites as when the bureau omitted information, including exculpatory evidence when applying for surveillance warrants against Carter Page, a former foreign policy adviser for the Trump campaign (via Fox News)   . . .

The report, which is over 400 pages, also notes that there was no evidence of political bias concerning the FBI's operation to infiltrate the Trump campaign  (via NYT) [emphasis mine]:  . . .

A long-awaited report by the Justice Department's inspector general released on Monday sharply criticized the F.B.I.'s handling of a wiretap application used in the early stages of its Russia investigation but exonerated former bureau leaders of President Trump's accusations that they engaged in a politicized conspiracy to sabotage him.
Investigators uncovered "no documentary or testimonial evidence" of political bias behind official actions related to the investigation, known as Crossfire Hurricane, said the report, which totaled more than 400 pages. The F.B.I. had sufficient evidence in July 2016 to lawfully open the investigation, and its use of informants to approach campaign aides followed procedures, the inspector general, Michael E. Horowitz, determined.
But Mr. Horowitz also uncovered substantial dysfunction, carelessness and serious errors in one part of the sprawling inquiry: the F.B.I.'s applications for court orders approving a wiretap targeting Carter Page, a former Trump campaign adviser with ties to Russia, under the Foreign Intelligence Surveillance Act, or FISA. He found that one low-ranking F.B.I. lawyer altered a related document and referred the lawyer for possible prosecution.
Given the highly fraught context of investigating someone linked to a presidential campaign, the report said, the Crossfire Hurricane investigators knew their work would be scrutinized — yet they nevertheless "failed to meet the basic obligation to ensure that the Carter Page FISA applications were 'scrupulously accurate.'"
The findings on the wiretap application showed that when it mattered most — with the stakes the greatest and no room for error — F.B.I. officials still made numerous and serious mistakes in wielding a powerful surveillance tool. Mr. Horowitz's discovery calls into question the bureau's surveillance practices in routine cases without such high-stakes political implications.
Sorry, as we've said before, this is simply not believable. Why wasn't the Trump dossier verified? There are errors that a simple Google search could've debunked portions of the Steele dossier or at the very minimum raised red flags about the accuracy of the document. That didn't happen and disgraced fired deputy FBI director Andrew McCabe refused to answer any questions about whether there was any verification process concerning this document when he testified before Congress. Why? Even members of British intelligence were skeptical of this dossier. 
On a sidebar, the antics between Peter Strzok and Lisa Page blows that narrative up. Strzok was fired for his tens of thousands of texts, many of which were anti-Trump, that he sent to bureau lawyer Lisa Page during the 2016 election. Strzok was also having an extramarital affair with Page. And Page noted that those texts meant exactly what they meant. And these two had a meeting with McCabe, allegedly, where they discussed an "insurance policy" regarding a Trump presidency. That "policy" is reportedly a reference to the Trump dossier.   . . .
Also at Townhall:  (bold our emphasis)
New and Rare Durham Statement Shows IG Report Doesn't Come Close to Telling the Whole Story
On Monday afternoon Department of Justice Inspector General Michael Horowitz released the long awaited report into FISA abuse during the 2016 presidential election. 
The report found that while there were nearly two dozen serious errors FBI agents made while applying for a FISA warrant, the investigation was justified. 
But in a rare statement released Monday afternoon, U.S. Attorney John Durham  issued a serious disagreement with the report's findings and said it was limited in scope.
"I have the utmost respect for the mission of the Office of Inspector General and the comprehensive work that went into the report prepared by Mr. Horowitz and his staff.  However, our investigation is not limited to developing information from within component parts of the Justice Department," Durham said. "Our investigation has included developing information from other persons and entities, both in the U.S. and outside of the U.S. Based on the evidence collected to date, and while our investigation is ongoing, last month we advised the Inspector General that we do not agree with some of the report's conclusions as to predication and how the FBI case was opened." 
Inspector General investigators are only capable of interviewing individuals in the Department of Justice. They cannot access information from other federal government agencies or compel anyone outside of DOJ to be interviewed. Further, the Inspector General can only recommend prosecution for those found to have engaged in illegal wrongdoing.
Durham, who has worked for Republican and Democrat administrations, was appointed by Attorney General Bill Barr earlier this year to conduct a criminal investigation into how the Russia investigation was started and how a FISA warrant was obtained to spy on the Trump campaign. His investigative authority is broad and unlike the Inspector General, he has the ability to prosecute. His office is capable of issuing subpoenas outside of the Department of Justice, to individuals throughout the federal government, overseas and more.
The results of Durham's investigation are expected to be released in the coming weeks.  
Cortney O'Brien at Townhall:

Page 341 of FISA Report Made Mark Meadows Say 'Wow'
The report into the FBI's surveillance of the Trump campaign is out, all 430 pages of it. It describes how the FBI obtained a FISA warrant to spy on Carter Page, one of then-candidate Donald Trump's former foreign policy advisers. The application was riddled with errors, as Matt covered in his initial report. And it again confirmed that the intelligence agency used an uncorroborated dossier about Trump and Russia authored by former British spy Christopher Steele to obtain the wiretapping warrant.
The FISA report found 17 errors in total, but it also found no political bias on the part of the FBI and concluded that their investigation was justified.
Still, there was a page near the back of the report that caught the eye of Rep. Mark Meadows (R-NC) and made him say "wow." As it turns out, the FBI took advantage of a briefing with the Trump campaign to use in their investigation.
Wow… page 341. IG says FBI used an Aug. 2016 'defensive briefing' with the Trump campaign as an "opportunity to gather potentially relevant investigative information" about Michael Flynn

 They used defensive briefings for their investigation into the Trump campaign

 Wow
— Mark Meadows (@RepMarkMeadows) December 9, 2019
He was irked again after flipping a few more pages.
Predictably, some media allies of Democrats spinning hard. This is what the investigation was about, pg 361:

IG found "numerous serious factual errors and omissions in the FISA applications … that undercut certain allegations in the applications."

That, alone, is indefensible
— Mark Meadows (@RepMarkMeadows) December 9, 2019
He's not the only official to sound off on the FBI's inconsistencies and alleged FISA abuse. Attorney General William Barr said today's report is proof that the FBI relied on the thinnest of suspicions to warrant their surveillance of the Trump campaign.
"The Inspector General's report now makes clear that the FBI launched an intrusive investigation of a U.S. presidential campaign on the thinnest of suspicions that, in my view, were insufficient to justify the steps taken," he said.
Even U.S. Attorney John Durham, who rarely issues public statements, spoke up on this occasion.
"Based on the evidence collected to date, and while our investigation is ongoing, last month we advised the Inspector General that we do not agree with some of the report's conclusions as to predication and how the FBI case was opened."