Ford vs Edsel (the grill was not all that inspiring)
Bobby Schilling  — unwavering on key issues; Right to Life, support for conservative Trump agenda, a proven performer on veterans issues, experienced, a good fit for the district,  not a panderer to Johnson County, shows tenacity as he recovers from health issue — already back in the game.
Mariannette Miller-Meeks —  her propensity to "misspeak" indicates not an instinctual conservative, campaign ads attack Schilling for what she is guilty of,  Republican establishment endorsements hardly inspiring  (note Trump and Grassley staying out), fourth attempt (self-financed nominations) might say something about her claims of grassroots appeal.
---
Miller-Meeks claims to be in the lead so let's look at her cause celeb using the window into her soul of the post-card campaign she has run and the unsupportable statements:
We have received four during the course of the primary campaign all with her campaign consultant Victory Enterprises mailing indicia, that in itself is cause to be circumspect about what is said therein (see here and here).
In one she refers to herself as a "Pro-Life pioneer in the Iowa legislature."  That is jaw-dropping BS, indefensible (she has been in the legislature not even two years, one real session) and an insult to the women in the legislature who have long supported the right to life. This from a candidate whose statements on the issue are so troubling, including indicating a propensity to vote for pro-life legislation in order to put it in the hands a what was then a pro-abortion Iowa Supreme Court. Her statements have been analyzed first here and later here.
Regarding Trump support
In two attack pieces Miller-Meeks falsely implies that Schilling does not have Trump's back because of  a comment Schilling made in support of an independent special prosecutor to clear up the Russian collusion accusations against Trump.  It was incredible low-life dredging by her handlers to find something they could distort to do a number on Schilling. Of course Miller-Meeks does not mention that her own much touted endorser Lyndsey Graham championed the effort and it was supported by other proven Trump agenda supporters as a way to confidently get to the truth (the corruption of Mueller not anticipated). See here.
But who had Trump's back during the accusation frenzy by Democrats about Trump's fitness for office one month prior to the 2016 election – not Miller-Meeks —  see insert of Miller-Meeks Twitter comment :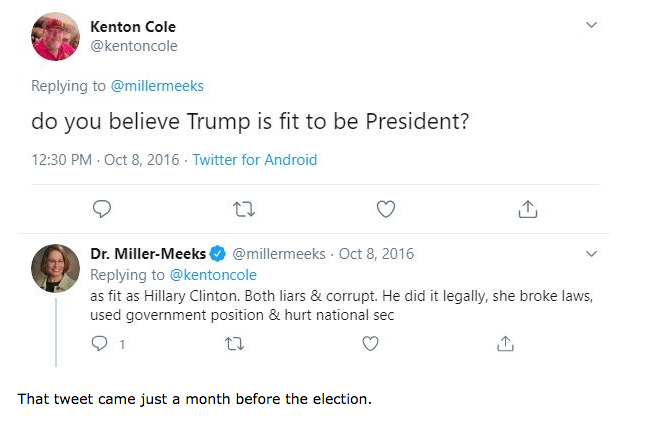 Insufferably Miller-Meeks claims to be "the only reliable pro-Trump candidate for Congress"   With friends like her no wonder Trump has not endorsed her in the primary.
The truth about the reliability of Schilling is revealed in the ratings he received as a Congressman in a district dominated by the Democrat machine. – See ivoterguide or ballotpedia where you will see that the usual liberal suspects gave Bobby Schilling very low ratings on a wide range of issues and conservative groups rated him very highly. Miller-Meeks has no comparable performance appraisal.
As for leadership abilities we respect this endorsement for Bobby Schilling from three-time Silver Star for valor recipient, U.S. Special Forces Captain, combat wounded and career Secret Service veteran Bill Albracht ( a resident of Illinois during Schilling's congressional term who also escaped the corruption of Illinois and now lives in Iowa's Second Congressional District:
I have known Bobby Schilling since he ran for congress in the IL 17th District in 2010. He ran out of a strong sense of duty and with a patriotic calling to serve the people of Illinois. I helped on his campaign and was extremely happy with his service to the District during his two years in Congress. Several years ago, Bobby moved to Iowa to start a new chapter in his life. With his public service behind him, he focused on his family. Now, he has heard the call once again and he has answered. Our state and our country needs Bobby Schilling. We need his voice to represent our Iowa values and be our collective conscience in the Halls of Congress. I am a combat wounded, combat decorated Vietnam veteran. I have seen men function in the worst possible scenarios. I've seen men fail – I've seen men triumph. I have come to recognize the indicators and traits that define those that never quit and hold to the path of honor and truth. I believe now as I did in 2010 that Bobby is what we need and what our Nation needs now and as we go forward into this new decade. In my former career in federal law enforcement, we had a mantra that every agent strived to live by "worthy of trust and confidence". This is Bobby Schilling and we are lucky to have him.
Bill Albracht – Bettendorf, IA
And just as a brief response to the silliness of the Miller-Meeks (Texas/California born and bred) intimation that Bobby Schilling is a carpetbagger, Schilling's roots in the area are longer and deeper than Miller-Meeks by family and juxtaposition having represented virtually the same river valley, the same industrial base, the same agricultural base and many of the same people who crossed the river from Illinois to Iowa.
---
The election is tomorrow, June 2.  For information on polling locations and time see your county auditor website.