SUSAN RICE FOR SECRETARY OF STATE? THEN HOW ABOUT 'BO' BERGDAHL FOR SECRETARY OF DEFENSE?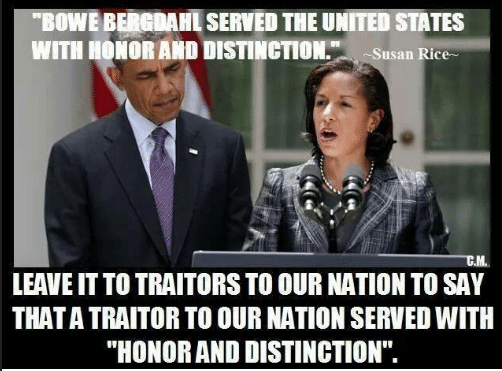 Politico had been saying before the election, that the pandemic and the "resulting economic devastation" would be likely to consume 'President' Biden's early months in office. Current and former US officials were then saying that could lead him to choose a Secretary of State with 'past experience at the State Department' because the person would not need much on-the-job-training in "Foggy Bottom."
According to Politico, that makes Susan Rice–"an experienced foreign policy hand"…an "appealing option" for Secretary of State. She and Biden, according to Politico, have a "warm relationship", though they disagreed over how to deal with tumult in places like Egypt and Libya when Biden was vice president.
Wow!
When some folks were thinking maybe their vote wasn't all that important and it wouldn't make that much difference who became president, were they also considering the fact that a person like Susan Rice would be a key member of a Biden Cabinet and have significant impact on the national security?!
If Susan Rice is famous and well-known for anything, it would be her worldwide reputation as a liar!
She made an indelible mark on State Department history as Obama's foremost liar when she went on 5 political talk shows on one Sunday and totally misrepresented what happened in the Benghazi attack. And she did it with that straight smug face that has become her trademark.
But that may not have been her most damaging lie. Dr. Rice's "tour de force" was her bogus claims regarding Obama's "success" in Syria's removal of chemical weapons.
For that, the "future Secretary Of State" won 4 Pinnochios from the Washington Post, of all Obama-supporting fake news organizations! (see Fox April 2017 story below)!
But, if Hillary Clinton can be a Secretary of State, a post once respected by all nations, why not Susan Rice?
Furthermore, why not 'Bo' Bergdahl for Secretary of Defense?
After all, both "served with honor and distinction". dlh