Ed note: unconfirmed report by NOQ, — which shares the sentiment expressed here about the DOJ, —  of the possibility of ~some ~ DOJ activity?  Story below.

Remember a couple of weeks ago when the Justice Department's top election crimes prosecutor resigned . . .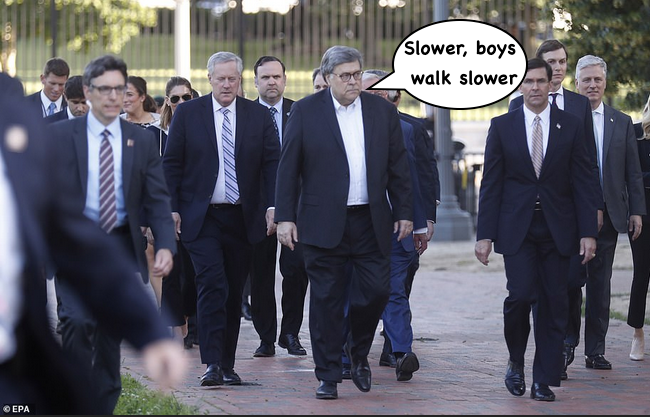 In the mean time Sidney Powell and members of the Trump legal team progress in their efforts to prevent battleground states from certifying results of the presidential election until a full investigation of possible election criminality is complete. Many Americans are aware that the Justice Department is also allegedly involved. It is "examining allegations of voting irregularities"…to the apparent chagrin, of course, of "progressives" and Biden supporters everywhere including, of course, the folks at CNN.
Yet, as we found out, surprise, even some members of Barr's own Justice department do not approve of an 'examination' of possible voting irregularities in the recent election.
Personally, however, I don't believe that Biden, his supporters, or the folks at CNN have anything to be concerned about as far as Mr. Barr is concerned. If this "examination' is like other 'highest' profile 'investigations' by his dept., we have probably heard about everything that is likely to result from here on.
The only thing lacking in this "examination" so far is for Mr. Barr to name a crack investigator with impeccable credentials and a fierce reputation for getting bad guys, to do an investigation in the greatest depth ever done, suggest that there may have been awful things afoot in the recent election, and if the evidence shows it, "justice will be done!"
And…with that as the last word the American public hears of it, Barr's work is done.
Unless lightening strikes, not just thunder, there will be nothing from the DOJ and on January 20, Sleepy Joe Biden will be sworn in as the 46th president of the USA and William Barr will return to his cushy retirement.
As one would expect from CNN the story below is presented as biased as is possible.    dlh
Ed note unconfirmed report by NOQ which shres the sentiment expressed here of ~some ~ DOJ activity
…………………………………………
CNN 11/10/20
The Justice Department's top election crimes prosecutor resigned Monday in protest after Attorney General William Barr told federal prosecutors that they should examine allegations of voting irregularities before states move to certify results in the coming weeks.
Richard Pilger, director of the elections crimes branch in the Justice Department's Public Integrity Section, told colleagues in an email that the attorney general was issuing "an important new policy abrogating the forty-year-old Non-Interference Policy for ballot fraud investigations in the period prior to elections becoming certified and uncontested." Pilger also forwarded the memo to colleagues in his resignation letter.
Pilger will remain a prosecutor in the Justice unit that investigates public corruption. Barr's densely worded memo had told prosecutors they could take investigative steps such as interviewing witnesses during a period that they would normally need permission from the elections crimes section. It's not clear what practical effect the policy would have in an electionin which President Donald Trump trails President-elect Joe Biden by tens of thousands of votes in several key states.
Barr didn't provide any indication that the Justice Department has come up with evidence to support Trump's claim of massive fraud in last week's election.
In his memo, Barr notes that while "most allegations of purported election misconduct are of such a scale that they would not impact the outcome of an election and, thus, investigation can appropriately be deferred, that is not always the case."
---
Dominion investigation? A DOJ plane went to Toronto (Dominion HQ), then to Atlanta
Is Dominion Voting Systems, the company at the heart of the voter fraud allegations flying across the country, being investigated by the Department of Justice? We can't know for sure, but an interesting tidbit of flight plan data may point to an investigation currently underway.
N721AL, a plane owned by the Department of Justice, flew from Manassas, VA, near Washington DC to Toronto, Canada, on November 15th. It left on November 18th. Then, the same plane took a quick trip down to Atlanta yesterday, staying for only an hour and ten minutes.
Toronto is where Dominion Voting Systems is headquartered. Atlanta is the epicenter of many of the problems Dominion has had with its voting systems allegedly being hacked to help Joe Biden "win" the presidency. Is it possible that Dominion is being investigated. A three-day trip to Toronto is conspicuous, as is a very short stop—likely to pick something up like a voting machine or hard drive—in Atlanta.
NOQ Report Political Commentator and Republican candidate in California Konstantinos Roditis noticed the flights and reported them on Twitter:
Attorneys Lin Wood and Sidney Powell have included Dominion Voting Systems in lawsuits they've filed regarding voter fraud in Georgia and Michigan. President Trump's lead attorney, Rudy Giuliani, has mentioned Dominion Voting Machines multiple times. Anecdotal reports of Dominion Voting Systems employees going into hiding and deleting their social media accounts seem to indicate the walls may be closing in on them.
Many of us keep asking, "Where's the Department of Justice with all this voter fraud to investigate?" If these logs are what they appear to be, then perhaps there are pieces moving on the board flying under the radar.