Judicial Watch: Records Show Iowa State Officials Coordinated with Big Tech to Censor Election Posts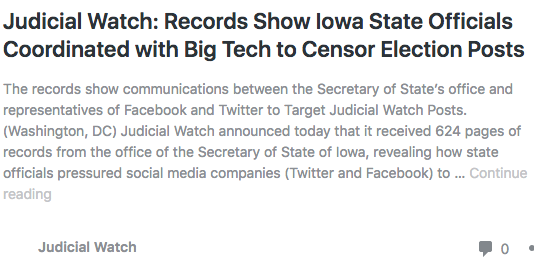 Paul Pate is Iowa Secretary of State (SOS).  Supposedly a conservative of sorts (like the Georgia Gov., etc)  he is nauseating with his make "voting easy and secure" or words to that effect.  Making voting "easier" after a point becomes a solicitation for the ill-informed to vote, and that is Pate's history.  There is no civic virtue in encouraging voting before debates even begin or in championing using the most vulnerable to fraud method of voting. He claims credit for some voter security improvements in the state but that is Republican dogma. In my judgement he has undermined voter security by pushing vote by mail over the years and championing early voting by mail.
Not mentioned in the Judicial watch article is that Pate recommended that Iowa counties take Billionaire liberal Mark Zuckerberg's CTCL money if they wanted to. Imagine that, how oblivious at best could he be given the known pedigree of the personnel running that show in addition to Zuckerberg's own political proclivities?  Imagine allowing  private money to target early voting and other Dem get-out-the-vote priorities under color of government operations.
Of course the counties /states Zuckerberg's organization CTCL pursued were largely Dem electoral targets including Iowa. Some Republican county auditors (who are the top election officials in Iowa) took the money, oblivious as well, but certain big counties are run by Dem auditors and they were no doubt in tune and particularly eager for it.
The Republican run Iowa legislature needs to outlaw focused private money going to government entities used under color of government auspices to run election turn-out activities.
A "non-profit" policy or partisan entity can run their focused election "vote early" and turn-out effort independent of government. Government doing their bidding is  inherently suspect, subject to partisan strategizing.  Further, the use of the entities grants for turn-out efforts associates government approval to that entity's donors and their policy proclivities and partisanship.
Even the one-day use of private entity space for election day voting can be manipulated for partisan effect.  Indeed a Scott County Auditor once proposed using a bar owned and named for a well-known union organizer as a satellite voting location. That said, and a careful watch as to any manipulations, donation of church building space and perhaps other non-public exceptions for election day voting can be employed for practicality in various counties.  It is nowhere near the same issue.
Reading the article linked in the tease box above, also set forth below, and the accompanying links,  I see not much of a rebuttal to Judicial Watch's concerns from Pate or his spokes-hole Kevin Hall.  Hall is  formally of The Iowa Republican, a now largely inactive if not defunct but one time important publication. His flacking for Pate is a real disappointment.  Regardless,  I see in their response an admission of sorts that the Iowa SOS office submits questionable or untimely data to the Federal election entity referenced, which is what Judicial Watch was going by.
At least as egregious is the Iowa SOS office's effort at censorship of Judicial Watch to avoid debate and or embarrassment.  Judicial Watch is not an organization that goes off half-cocked.  It has achieved consent decrees for several states regarding similar matters. Pate's actions at a minimum are pathetic, maybe ought to be impeachable, certainly something else for a primary challenger to pursue against Pate.
Judicial Watch: Records Show Iowa State Officials Coordinated with Big Tech to Censor Election Posts
The records show communications between the Secretary of State's office and representatives of Facebook and Twitter to Target Judicial Watch Posts.
(Washington, DC) Judicial Watch announced today that it received 624 pages of records from the office of the Secretary of State of Iowa, revealing how state officials pressured social media companies (Twitter and Facebook) to censor posts about the 2020 election. Included in these records were emails from Iowa state officials to representatives of Big Tech pressuring these companies to remove Judicial Watch's posts. The emails show how the state agency successfully pressured Facebook to censor Judicial Watch's post about Iowa's management of its voter rolls.  
Judicial Watch received the records as a result of a June 2020 Iowa Open Records lawsuit that was filed after the Iowa Secretary of State failed to comply with a February 2020 request for records and communications about a Judicial Watch report regarding the accuracy of the state's voter registration rolls (Judicial Watch v. Iowa Secretary of State (No. 05771 EQCE085973)). Judicial Watch was represented by Iowa lawyer Alan R. Ostergren of Des Moines, Iowa.
The records show that officials in the Iowa Secretary of State office on multiple occasions contacted officials from Facebook and Twitter to try to have these companies remove Judicial Watch posts that raised concerns about Iowa's failure to maintain accurate election rolls.
On February 3, 2020, at 5:19 p.m., Kevin Hall, the communications director for the Iowa Secretary of State, wrote in a February 3, 2020, email to Facebook official Rachel Holland:
Rachel,
We've been playing whack-a-mole with this false story all day. Is there anything you can do to help: [likely https://www.facebook.com/JudicialWatch/posts/10157583458431943] 
We've told them is fake. They have it PINNED to the top of their page. 
Here's our rebuttal: https://sos.iowa.gov/news/2020_02_02.html
Holland responded at 6:11p.m., writing:
Hi Kevin,
Circling back with an update regarding the content posted by Judicial Watch. Our third-party fact checkers have rated this content false, and we have applied a filter over the content warning users before they click to see it that the content has been rated false by independent fact checkers.
Please continue to report violating content to us by emailing reports@content.facebook.com, and copying me (RachelHolland@fb.com), as I will be on an airplane for the next couple hours. Let me know if you have any questions or concerns regarding this or any other matters. 
A couple of hours later, Hall followed up, "Thank you! They have new posts up, doubling down on the false claims." 
And Holland responded, "Thanks for flagging- we've got a full team with eyes on this now and are applying the false filter to similar articles as well. I'll send you an additional update shortly!" 
That same day, Hall and Maria Benson, the director of communications at the National Association of Secretaries of State, both tried to convince Twitter to censor Judicial Watch's posts but were ultimately unsuccessful. 
Hall filed a report with Twitter, and Benson escalated it by looping in Kevin Kane from Twitter. On February 3, 2020, Benson wrote, "Iowa Secretary of State has reported the below election misinformation, but Twitter has declined to take it down. As you can see from facts the tweets are clearly wrong. I wanted to bring this to your attention to hopefully remedy the situation. I've cc'd Kevin Hall, their Communicators Director."
Kane responded rejecting the request saying, "Thanks Maria – This was reviewed by our team and is not in violation of our election integrity policy as it does not suppress voter turnout or mislead people about when. where. or how to vote. I understand this is not the outcome you are seeking and appreciate you continuing to report Tweets to our team."
In an email the next day, Hall wrote to Kane saying, "Facebook, thankfully, was helpful. I would suggest perhaps reviewing your policies at Twitter and putting them more in line with what Facebook is doing to counter election misinformation." 
After being rejected by Twitter, Benson emailed Brian Scully, an official at the Department of Homeland Security's Cybersecurity and Infrastructure Security Agency, writing on February 3, 2020: 
Hey Brian,
Can you report this as well? Hannity is now retweeting and Twitter isn't playing ball with us. I've cc'd Kevin Hall who you met Saturday. He's IA SOS's Communications Director. He's been reporting and playing wack a mole by trying to reply to misleading tweets.
Scully responded promising to contact Twitter. "Sorry … been out of pocket a bit. Will reach out to Twitter. Let me know if you get something."
"These records are yet another example of state officials conspiring with Big Tech to deny Americans their First Amendment rights," said Judicial Watch President Tom Fitton. "These records further show that Big Tech censorship is a government scandal: Iowa government officials worked with Facebook to remove posts they didn't like, and Facebook bowed to this political pressure immediately. It should be disturbing to all Americans that government officials are working to censor speech they disagree with and that these behemoth companies often seem willing to roll over and censor free speech."
Judicial Watch last week released records from the office of the Secretary of State of California revealing how state officials pressured social media companies (Twitter, Facebook, Google (YouTube)) to censor posts about the 2020 election. Included in these records were "misinformation briefings" emails that were compiled by communications firm SKDK, that lists Biden for President as their top client of 2020. The records show how the state agency successfully pressured YouTube to censor a Judicial Watch video concerning the vote by mail and a Judicial Watch lawsuit settlement about California voter roll clean up.
###
Related reading:  Here