Contributor TN astutely recognized the irony of this story and photo and sent it to us.  Our concluding comments do not necessarily represent our contributor.
Talking "mental health" while wearing a face mask!  (ref QC Times article and photo)
Grassley talks mental health funding, support during Davenport stop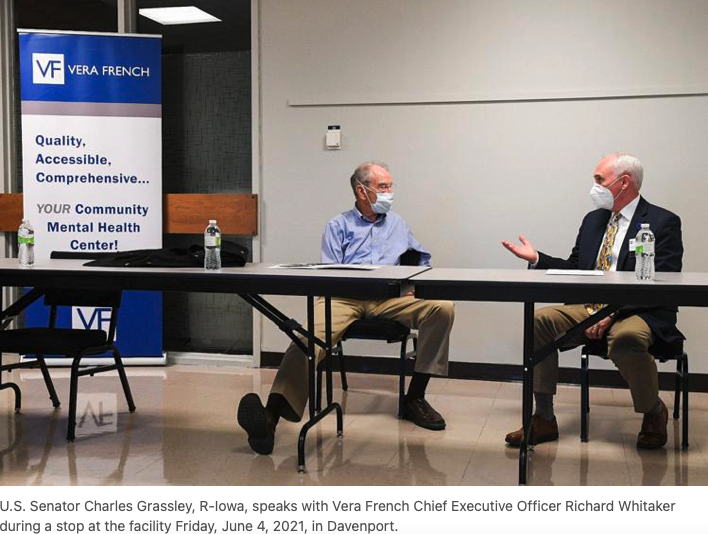 Politicians led around by public health experts have aggravated the mental and physical health difficulties experienced during the induced COVID terror. Isolation, acute economic problems, drug abuse, forgone treatments due to shutdowns and general induced hysteria, etc. They have promoted this not for a few weeks mind you, as Trump recommended, but for well over a year with the terror still being propagated, evidence the ridiculous masking and distancing still being exhibited by Senator Grassley. Masking and distancing are impediments to personal, mental, social and cultural  normalcy and health..  His exhibition is counterproductive fear-mongering whether he realizes it or not.
Now with reference to the public health experts, mental health division, lobbying for more money as related in the QC Times article, it would be great if Grassley called their profession to task of promoting human connections and normalcy rather than  isolation.  We believe immediate improvements would be possible in all age categories, to stop being part of the unhealthy culture terror of the Wuhan Flu /COVID ).
We do not know the best mix of limited funds but we have seen how these bureaucracies work and justify ever increasing growth and mission creep never being circumspect that maybe they contribute to the problem, that their profession has issues. We recognize that practitioners and patients are often victims of the politicians and theorists in their ranks.