It ought to be
EU — such an unholy alliance destructive of culture ought to be abandoned 
Britain did so under Brexit 
Italy now under threat for actually being democratic
Just say arrivederci to EU
Are the remaining ~~ countries~~ in the EU even countries?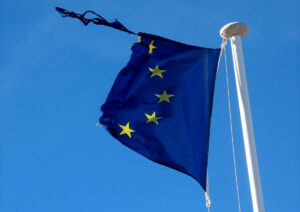 Reading this Breitbart article the member countries of the EU are just fiefdoms of the EU bureaucracy. They ought to all be ashamed of themselves for indifference to nationcide and get the hell out. (Excerpt below, bold our emphasis)
EU will be 'Vigilant' Towards Any Threat to Abortion After Italy Election, French PM Threatens.  (images not part of article)
France's Prime Minister has threatened that the EU will be "vigilant" towards any threat to its pro-abortion regime after Italy's historic general election.

The European Union will be "vigilant" of any threats to "human rights", especially in regards to its pro-abortion regime, after the Italian public decided to hand the country's right-wing a sizable victory during the country's general election on Sunday.

While the exact results of the snap election remain unknown, it is expected from exit polls that a coalition of three conservative and nationalist parties will end up spearheading a new Italian government, with Fratelli D'Italia (Brothers of Italy) head Giorgia Meloni expected to become the country's first woman Prime Minister.

European bigwigs have responded with hostility to the projected election result, with Commission President Ursula von der Leyen threatening that the bloc has certain "tools" it could use to attack Italy should it deviate from the Brussels agenda.

Such threats have now been echoed by France's Prime Minister, Elisabeth Borne, who told broadcaster BFMTV that the EU would be watching closely to see if any "human rights" were being put under threat following Sunday's vote.

Though saying that she would not comment on "the democratic choice of the Italian people", she emphasised that in the area of abortion, in particular, the powers that be in Europe would be extremely "vigilant".

"In Europe, we have a set of values ​​and, of course, we will be mindful that these values ​​are respected by everyone when it comes to human rights and the right to abortion," the French bigwig is reported as saying.

Meloni, while a Catholic, has promised that she would not crack down on abortion in the country, though has reportedly expressed the desire to see alternatives offered to women wherever possible.

Borne's comments echo those made by Ursula von der Leyen, who threatened last week that Brussels could crack down on any right-wing government in Italy should it feels its actions run contrary to the agenda of her transnational bloc.
We can't imagine a self-respecting country not exiting from such an organization whose leadership issues such condemnations and threats to its internal and cultural independence.
The dominannt liberal press in the US is just dripping with distain of Meloni's win while exhibiting incredible historical ignorance. Upon announcement of her coalition's likely win we are treated to such calm descriptions referring to the Italian elections as establishing the most right-wing government since World War II.  Of coursed they mean to invoke Mussolini the fascist dictator as if fascism was a right-wing political/economic force. The truth is fascism is a form of socialism  — just another big- government "leftist" formation. Post WWII Italy was in trajectory leftwing, with mild retrenchments here and there, with all manner of government controls also found in Mussolini's elected dictatorship.