Senators Ernst and Grassley call for Franken campaign  (Mike's not Al's this time) to come clean and drop any threat of a non-disclosure limitation Franken's intimidation team held against Franken's accuser who must be believed. (See our previous post).
Our view — If non-disclosure agreements (NDA) or non-disparagement agreements on matters of sexual assault are valid that is an absurdity in the law (we are informed an NDA covering up such matters are not valid). Exposing a pattern of unwanted advances toward women should not be either and that is the point of comments by Gretchen Carlson and Iowa Senator Joni Ernst, both victims of sexual predation, also joined by the Grassley campaign.
On such a burning matter for progressive women why is the left not up in arms over "Vice Admiral" Mike "Masher" Franken and his campaign team using NDA as a shield for predation?
Franken now says there is no such NDA. Well then why did his "team" tell his accuser 's lawyers that there was??
Reading the police report filed by the female former campaign manager to Franken the assigned officer asked her a ridiculous question as to whether she considered Franken's grab and kiss "aggressive or sexual." That would seem to be a question of legal distinctions  which a criminal complainant should not be expected to opine on having already complained of the forceful grab.  It is only relevant as to the type of charge (something related to assault vs something related to sexual assault).  Having issued a complaint that Franken grabbed her by the lapels and pushed his face into hers to kiss her, unless Franken does that to men that would seem to be an assault and sexual in nature. Presuming Franken to be heterosexual, grabbing a woman to plant an unwelcome kiss on the lips is sex linked.
Related reading:
BREAKING: Police Report: Mike Franken's Former Campaign Manager Accused Candidate of Assault.

Gretchen Carlson Decries NDAs Amid Franken Assault Allegations
This week, a police report was made public by Iowa Field Report that detailed an assault allegation against Democrat Senate Candidate Mike Franken. Yesterday, the Grassley Works campaign called on Franken to release his accuser from her non-disclosure agreement (NDA) so she can speak out if she so chooses. This call for transparency aligns with the requirement Senator Grassley is leading in Congress through the bipartisan Speak Out Act.
Gretchen Carlson is a former TV anchor and leading advocate of giving a voice to survivors of workplace sexual harassment and assault, especially those muzzled by NDAs. She is a co-founder of Lift Our Voices, an organization dedicated to empowering survivors to speak out by eliminating nondisclosure agreements and forced arbitration clauses.
Today, Gretchen Carlson tweeted the following: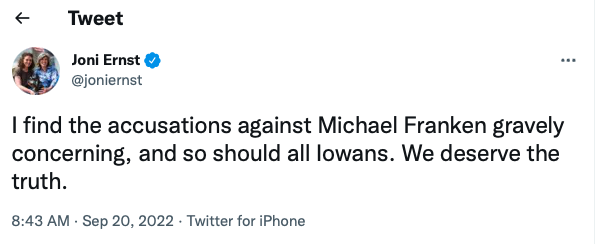 Well the Cedar Rapids Gazette, reprinted by the QC Times, has reported on the story, in the QC Times version in a page 4 — below the fold — using an obscure title for the article sort of way
No legal restriction on former campaign staff, Franken says.
The Gazette did a follow on story, not as yet anyway in the QCTimes print version
U.S. Sen. Chuck Grassley: Voters deserve answers on allegations against opponent
Grassley Campaign  was not to be trifled with: 

Not An Isolated Incident: Mike Franken's Troubling Record of Extreme Disrespect Toward Women
Following allegations of assault by Mike Franken's former campaign manager and his refusal to release his accuser from her NDA—which she claims Franken used to silence her—it's worth revisiting Franken's troubling record of extreme disrespect toward women.

This morning, the Grassley Works campaign released a new campaign ad highlighting Franken's disparaging comments toward Iowa's women, including Governor Kim Reynolds, who he implied was a witch on multiple occasions.

As Iowa Field Report noted, Franken repeatedly has "1950s interactions with women," according to his accuser, and his unwanted advances are "something that [Franken] has done to several other women."

Mike Franken's former campaign manager isn't the only one to allege that he is a serial perpetrator of unwanted advances and inappropriate behavior. As progressive Des Moines activist Jaylen Cavil noted, "I had heard things like this about [Mike Franken] for a while."
So it wasn't any surprise that the same day details of the police report broke, Mike Franken was touting his endorsement from disgraced ex-Senator Al Franken, who was forced by his fellow Democrats to resign for his sexual misconduct.
In a since-deleted tweet, Mike Franken tweeted at Al Franken on April 5, 2019, and said, "Wondering why you left your seat. Run again, please."
Mike Franken to Al Franken: "Run again, please."
Mike Franken has a long history of disrespect toward women and a refusal to see women as equal and independent. At an event in Denison, Franken said Supreme Court Justice Clarence Thomas should control his wife and dictate what she is or isn't allowed to say and do. "You let your wife act like this?" Franken said.

Mike Franken does not respect women in positions of power. He has repeatedly referenced Governor Reynolds as a witch, saying she "needs to get on her broom and fly away." And his comments weren't limited to Iowa's first female governor. He also made sexist remarks about Sen. Joni Ernst, Iowa's first female U.S. senator and first female combat veteran to serve in the U.S. Senate, diminishing her career and saying she would "follow his lead" if elected and "see [his] big wrath."

Mike Franken's sexist remarks haven't been limited to elected women leaders or to his alleged victims. He's disrespected all women in rural Iowa by saying, "What I see in rural Iowa is a forlornness in the eyes, an emptiness which I see in South Sudan…mostly in women who just look void."

As EMILY's List, a Democratic political action committee focused on electing women, stated: "Iowa Democrats should not trust…Michael Franken."

Bottom line: the revelations made public in the police report detailing Mike Franken's alleged assault on his former campaign manager are merely the latest examples in a serial mindset of misogyny and sexism toward women and extreme disrespect toward the women of Iowa.