Trump derangement syndrome rules

We 

didn't

 think the Dems would pull the trigger, the implications too 

hard to predict or control
Trump's statement, DeSantis statement and other links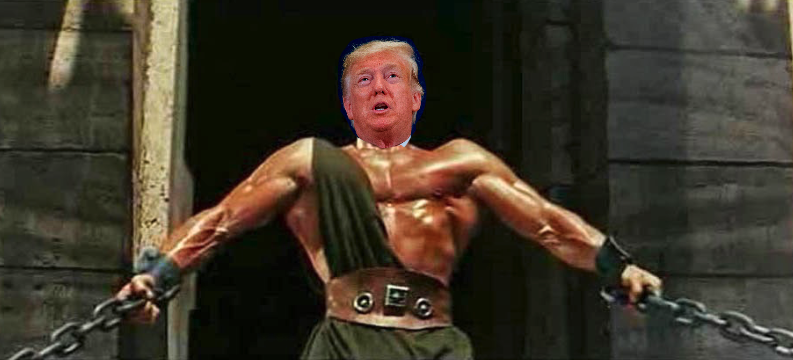 A process that allows "a ham sandwich to be indicted" because of totally one-sided presentation of supposed law to non-lawyer civilians on a matter has huge potential for abuse and the Manhattan District attorney's  wielding of it to get Trump will go done as the hornbook example of such abuse.    Maybe Democrat powers-that-be controlling this partisan hack thought they had to double down in spite of  the whole justification being widely criticized across the political spectrum. The actual indictment if issued by the prosecutor and not quashed for its outrageousness by a judge will allow Trump to rattle the chains of oppression with stark clarity for months as a rallying cry against the one-sided political hatchet job it is.
President Trump's statement in response:
"This is Political Persecution and Election Interference at the highest level in history. From the time I came down the golden escalator at Trump Tower, and even before I was sworn in as your President of the United States, the Radical Left Democrats – the enemy of the hard-working men and women of this Country – have been engaged in a Witch-Hunt to destroy the Make America Great Again movement. You remember it just like I do: Russia, Russia, Russia; the Mueller Hoax; Ukraine, Ukraine, Ukraine; Impeachment Hoax 1; Impeachment Hoax 2; the illegal and unconstitutional Mar-a-Lago raid; and now this.
"The Democrats have lied, cheated and stolen in their obsession with trying to 'Get Trump,' but now they've done the unthinkable – indicting a completely innocent person in an act of blatant Election Interference.
"Never before in our Nation's history has this been done. The Democrats have cheated countless times over the decades, including spying on my campaign, but weaponizing our justice system to punish a political opponent, who just so happens to be a President of the United States and by far the leading Republican candidate for President, has never happened before. Ever.
"Manhattan DA Alvin Bragg, who was hand-picked and funded by George Soros, is a disgrace. Rather than stopping the unprecedented crime wave taking over New York City, he's doing Joe Biden's dirty work, ignoring the murders and burglaries and assaults he should be focused on. This is how Bragg spends his time!
"I believe this Witch-Hunt will backfire massively on Joe Biden. The American people realize exactly what the Radical Left Democrats are doing here. Everyone can see it. So our Movement, and our Party – united and strong – will first defeat Alvin Bragg, and then we will defeat Joe Biden, and we are going to throw every last one of these Crooked Democrats out of office so we can MAKE AMERICA GREAT AGAIN!"
DeSantis as chief administrator of law enforcement in the state: Florida won't cooperate with Trump extradition (via The Floridian)
Florida Governor Ron DeSantis, a Republican, said Thursday that the indictment of former President Trump was "un-American" and that the state would not support extradition requests.
"Weaponizing the legal system to advance the political agenda is upending the rule of law. tweeted.
"The Soros-backed Manhattan District Attorney has consistently bent the law to downgrade felonies and allow criminal activity. But now he is expanding the law to target political opponents. DeSantis continued, adding that the state of Florida would not support extradition requests "given the questionable circumstances at issue."
Related links via Liberty Daily (their link descriptors):
Alan Dershowitz on Sham Trump Indictment: 'They've Made a Foolish, Foolish Decision' [VIDEO]
Jason Whitlock Reacts to Bogus Trump Indictment: 'I've Never Voted But Tonight I'm Hardcore MAGA' [VIDEO]
Trump Family Reacts to Indictment: 'Communist-Level Shit'
Democrats React to Trump's Bogus Indictment, Repeating Insincere 'No One Is Above the Law' Trope
Tucker Carlson Lays Out Trump Indictment: What We Know and What to Expect
Professional Whore Stormy Daniels Is Selling Merchandise, Autographs Off of Phony Trump Indictment, Worries About 'Spilling My Champagne'
Jesse Watters Tells Sen. Josh Hawley That Lawmakers Must Show 'Some Sort of Resistance' After Bogus Trump Indictment
House Speaker Kevin McCarthy Vows to Hold Soros-Bankrolled Alvin Bragg 'And His Unprecedented Abuse of Power to Account'
'Political Prosecution': Legal Experts Rail Against Bogus Trump Indictment
Kari Lake Breathes Fire on Radical Left After Trump Indictment Announcemen
Pelosi Perverts American Justice System of Law, Insinuates Trump Is Guilty Until Proven Innocent
Pelosi Perverts American Justice System of Law, Insinuates Trump Is Guilty Until Proven Innocent
Trump Indictment Is Biden-Harris Regime's "Nuclear Option" in the War on America
. . . Kitchen Sink: CNN Analyst Claims Trump Being Indicted on 34 COUNTS