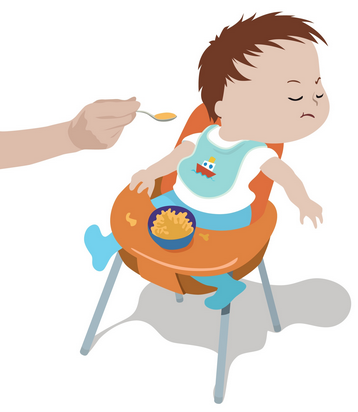 An English teacher at North Scott High School implemented a diversity curriculum that included the following loaded topics. By loaded we mean that the formulation of some is biased, and in number they mostly reflect liberal spectrum "concerns". One might argue that whether or not biased they can still trigger conservative perspectives in response. Yeah,  sell that somewhere else as it is doubtful that there is a history of anything but liberal indoctrination providing the background for students to deal with the various topics. That creates a hostile environment for students with conservative inclinations.
That the lesson involves surveying the students (and not in an unbiased way) regarding the issues presented is troubling. To his credit the school district's superintendent saw some inappropriateness to it (see excerpted public statement).  We would add that a big part of the problem even if one found inklings of neutrality in the politically charged topics it is doubtful that going beyond or in an alternative mode to Google as a search engine is emphasized.  See links regarding bias in Google searches, which dominate 92% of searches on the Internet.
Thanks to DH and Sf for forwarding the information.  A school board meeting likely to have this matter brought up was scheduled for last night, Tuesday April 13.  We will let you know if we hear or read of any fireworks and readers please advise us any reports you have.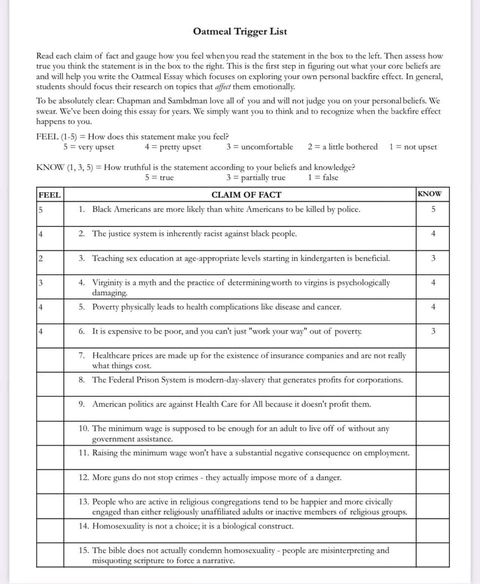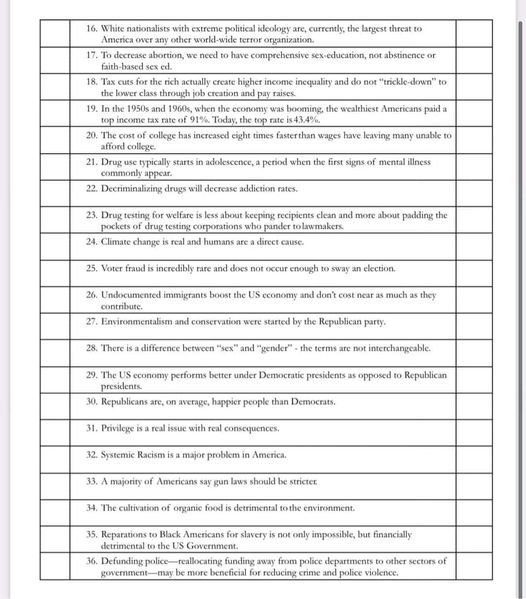 North Scott Schools Superintendent statement in response (excerpt)
Throughout the past several weeks, there have been two instances in which concern was expressed about separate lessons at the Junior and High School. The purpose of this email is to communicate with our families regarding these concerns and clear up any misinformation that may be circulating.
The lesson at the High School was carried out in a college-level composition class for Juniors and Seniors. The lesson, Oatmeal Essay, was designed to meet writing standards and critical thinking skills. Part of the lesson included the students reading through a list of statements that caused them to explore their beliefs on certain topics; beliefs that may get in the way of processing information from sources that do not parallel their own beliefs. The assignment raised concern among some of our families. In looking into this situation further, we found that the list used in the assignment was not appropriate. In hindsight, we should have also provided parent notification proactively before the lesson started. The high school administration has worked with the department to ensure this lesson will meet our expectations in the future.
We doubt there was any misunderstanding about the import of the list or the tenor of education curricula today.
Googles search bias
Google Shadow Bans Searches For "Riots Today" Following Violent Unrest in Minnesota
Donald Trump is right: Google results are biased against .
Google Engineer Reveals Search Engine Bias
Five Times Google Was Caught Red Handed on Bias and Censorship
It has been our experience that "Google" searches for a topic near and dear to conservatives, often regardless of specificity, is likely to produce pages of links or a preponderance of links from liberal sources before the most on-point conservative link sources are set forth.